Building on Rest
June 3 – 25, 2023

Artist Reception Saturday, June 3, from 1-3pm

studio e is pleased to announce its upcoming exhibition featuring the works of Kelsey Fernkopf, KT Hancock, Megan Harrison, Adam Harrison and Jessica Ramirez. The exhibit will be on view from June 2 to June 25, and will showcase a diverse range of work from painting and mixed media to neon sculpture.

The exhibiting artists bring their unique perspectives and artistic styles to create a dynamic and visually stunning collection of new works. Fernkopf's contemporary neon sculptures explore the relationship between nature and human intervention, while Megan Harrison as well as Adam Harrison's paintings use color and texture to create atmospheric and emotive landscapes. KT Hancock challenges the viewers expectations to the neon medium by creating a personally charged, freestanding installation. Ramirez brings a mixed media fabric piece that comments on traditional notions of beauty and identity.

The artists brought together were part of a curatorial collaboration with visual artist and public art administrator Tommy Gregory. It is Gregory's goal to combine Seattle based artists that he reveres with artists from different regions, such as Megan Harrison from San Antonio and Jessica Ramirez traveling work to us from New York City. "My hope is that the perspectives these artists bring in Building on Rest create a visually stunning and intellectually engaging exhibition that will resonate with art enthusiasts and casual viewers alike"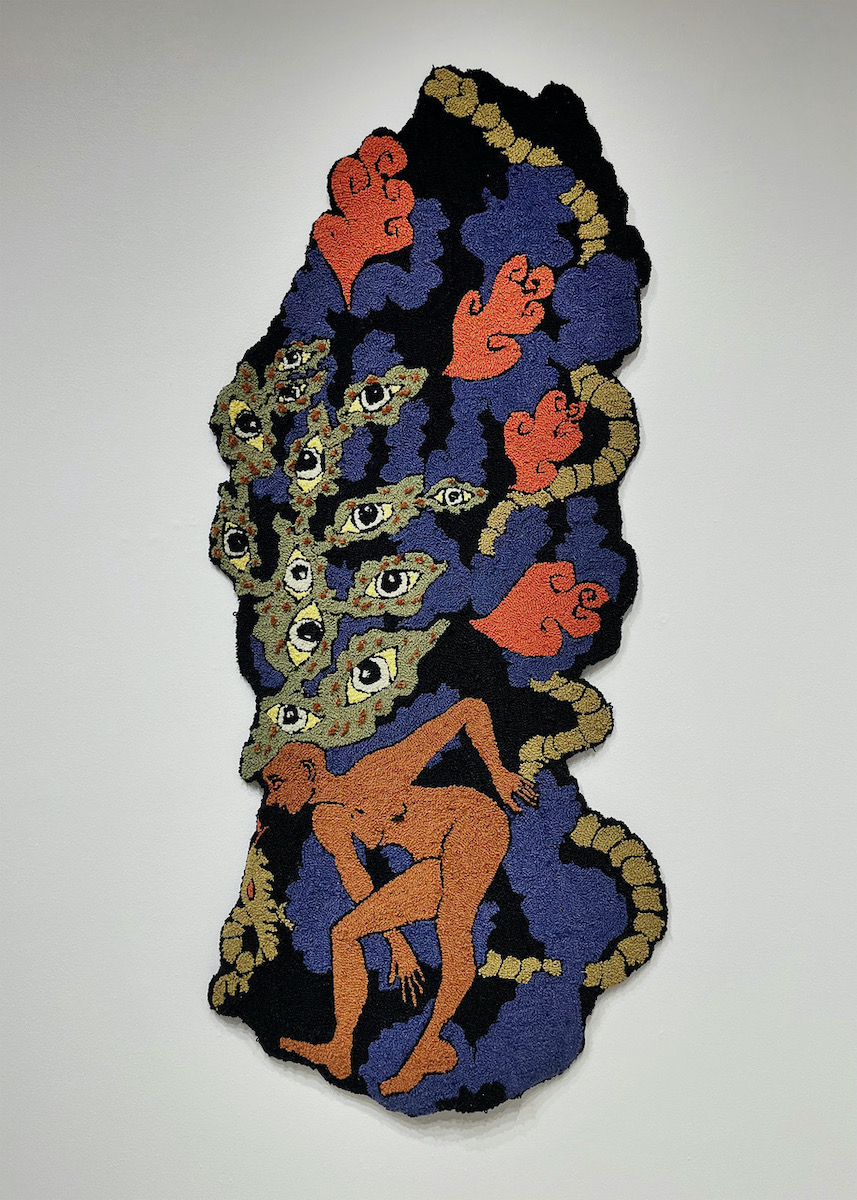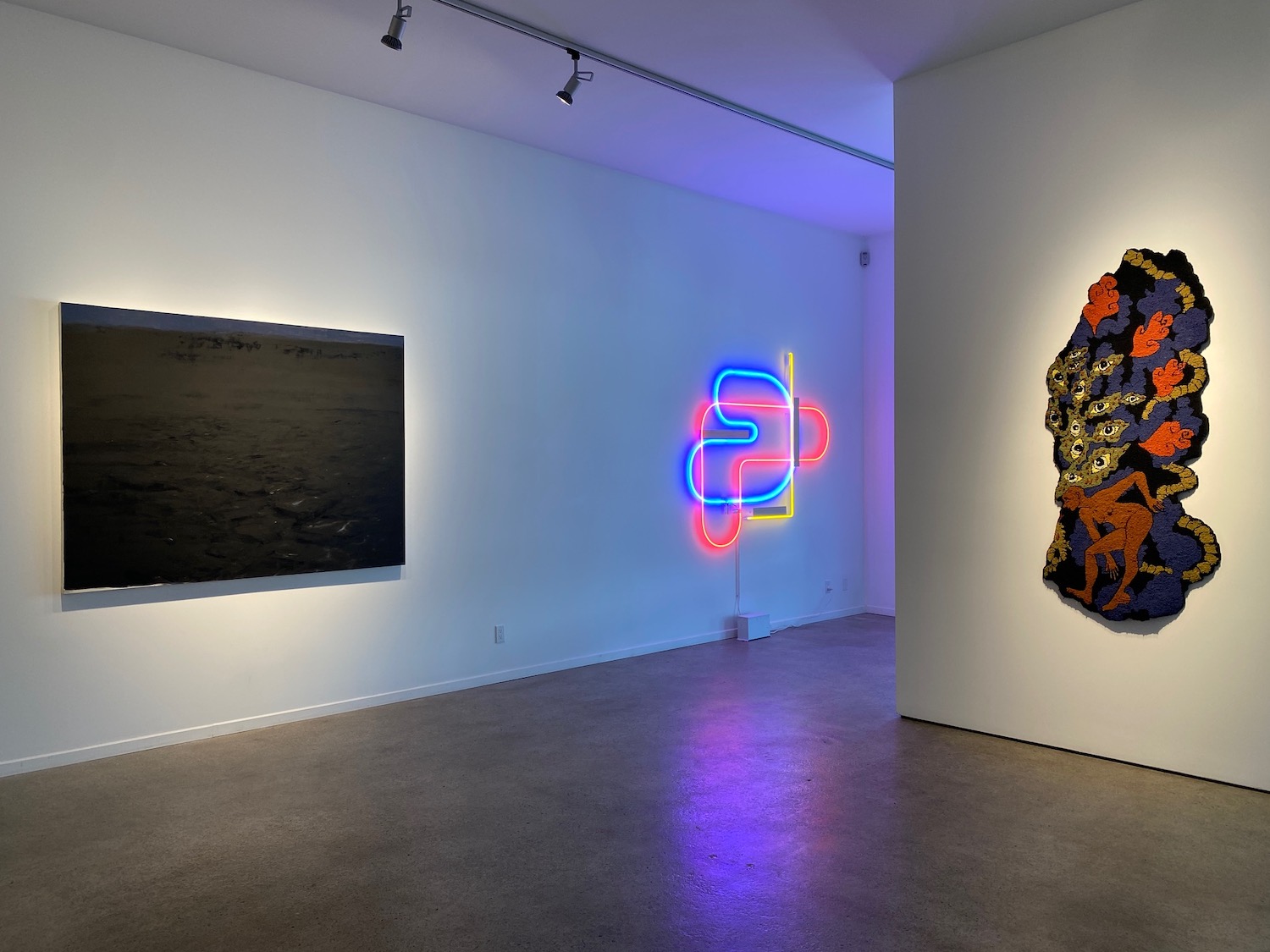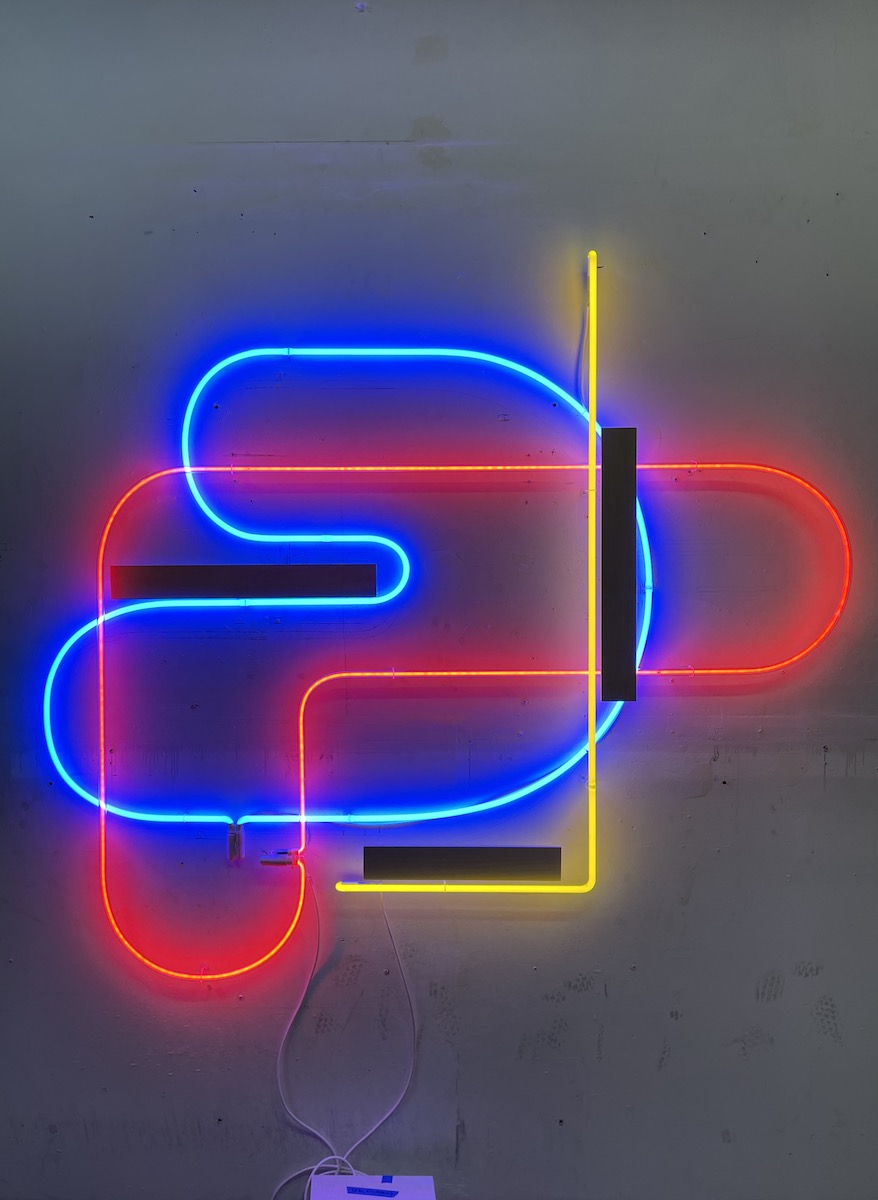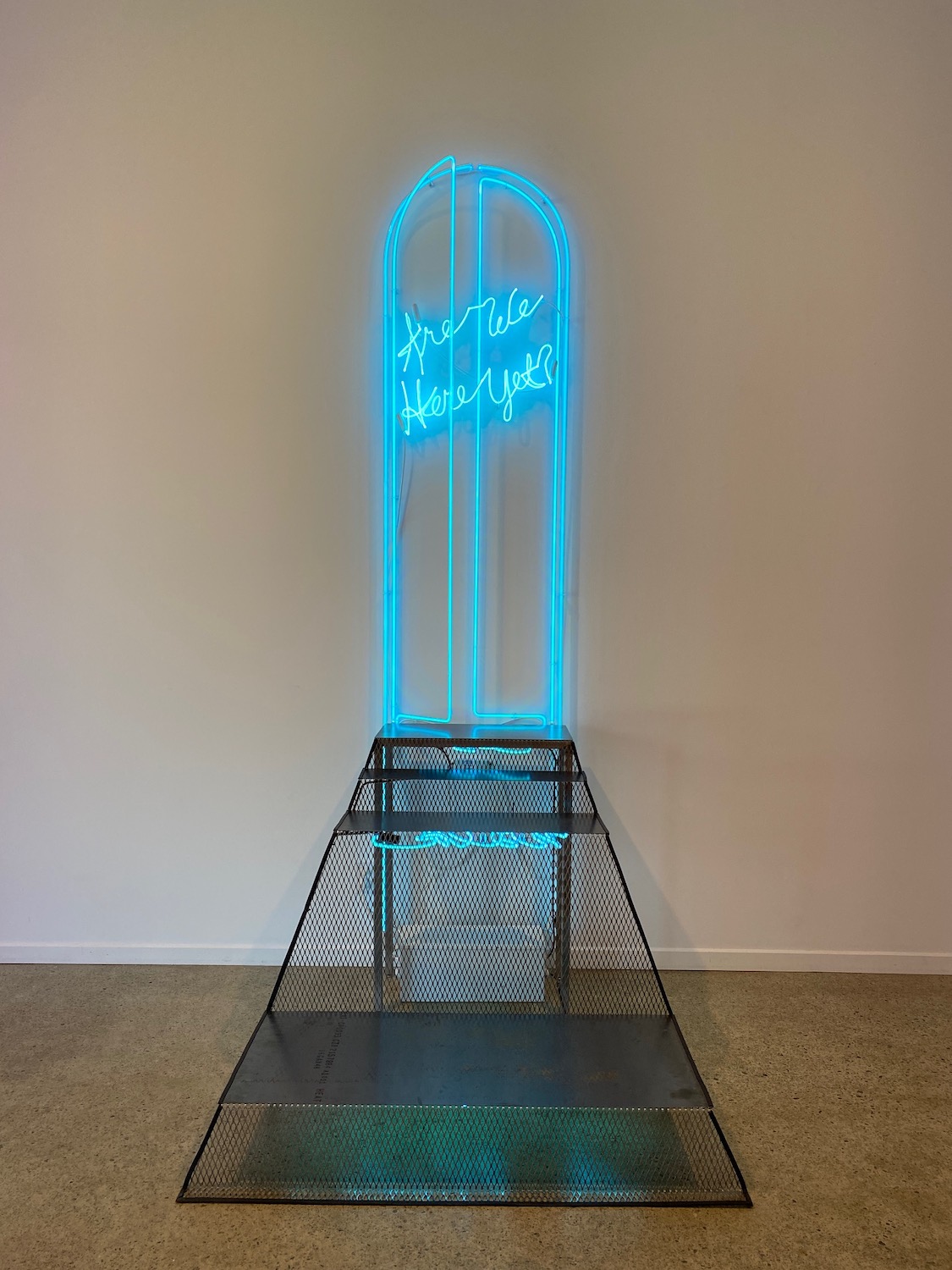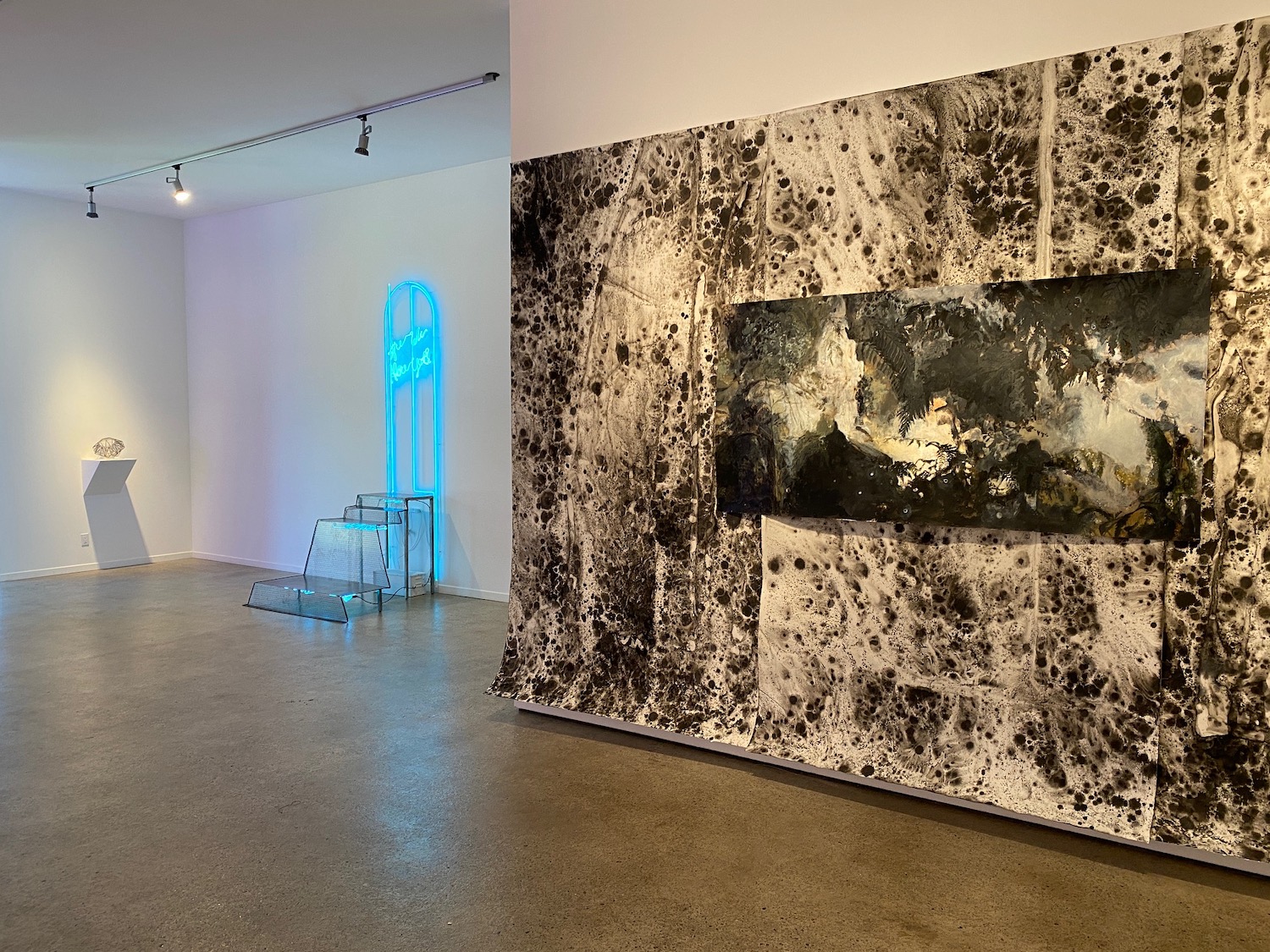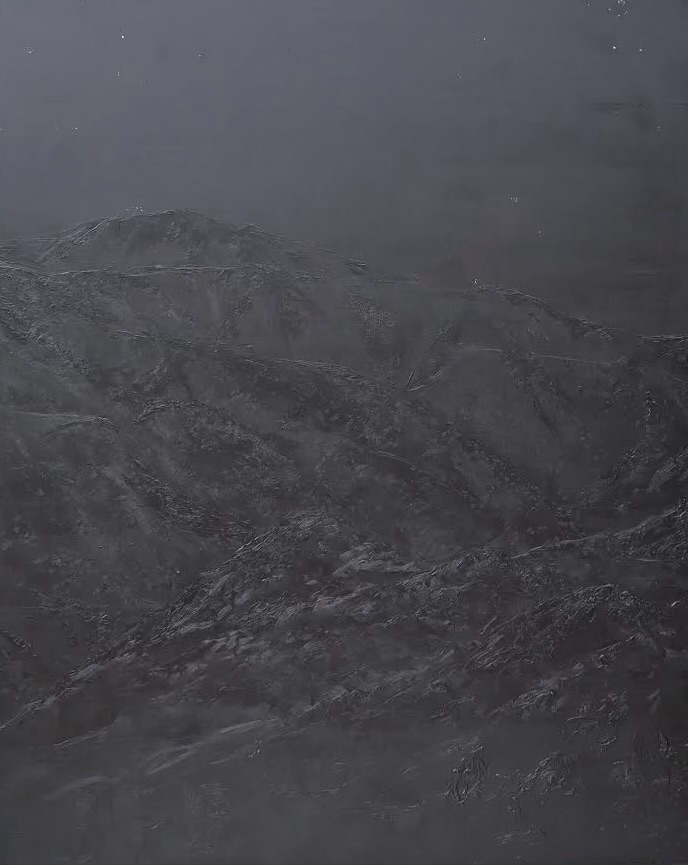 Artists
Kelsey Fernkopf
Seattle based artist Kelsey Fernkopf's BIG NEON sculptures highlight the linear and luminous qualities of neon glass tubing using a single continuous tube technique uniquely his own. His BIG NEON work manifests the gigantic while contrasting the fragility of glass with bold design. Illuminated line and curve emanate dynamic strength and interact with their environment both as freestanding sculpture or in play with the architecture of walls and floors around them. Often creating single continuous tubes reaching 30 linear feet in length, Kelsey Fernkopf's BIG NEON challenges the boundaries of the luminous tube medium
"I place neon sculptures in the landscape, studying the visual effects produced when luminous light, color, and space intersect in our environment. Contrasting the fragility of glass with bold design, I create single neon tubes up to 30 linear feet in length, transporting them to unexpected surroundings. My neon installations in both urban and natural landscapes are site-specific and temporal, documented by photography and digital media. Framing both the urban and natural environment with light, I rely on the medium as the message, exploring light, line, and form as I offer the viewer and myself a new perspective on our surroundings."
KT Hancock
"To hide . A verb to put or keep out of sight; conceal from the view or notice of others. To exist within a world where you feel overlooked. To feel the need to ask your counterpart to look harder. To look deeper. To ask yourself what it means to walk a mile. In some ways I have asked you to work as hard as I have. To feel the strain of sight or clarity. It's not always a defined path. You don't always know exactly where you're going. To ask yourself "Are We Here Yet?" Removes the question from your counterpart. It's an objective observation. A question of presence. It's something only you can answer. This piece is a direct response to my own opening. To become cognizant of self. To realize that which I have been given hasn't been definitive, but simultaneously has helped to form my path."
Adam Harrison
Adam Harrison is an artist based in Los Angeles, California. His work focuses on capturing the beauty of the places he visits through his paintings. Adam relies on the sights, sounds and feeling of the elements he paints and invites the viewers to contemplate what they have always seen, but perhaps have not contemplated.
In this selection of new work, Harrison explores the connection between place and personal experiences. Through his paintings Harrison embarks on an introspective journey, inviting viewers to delve into the intricate web of identities shaped by our environments.
By immersing viewers in his own experiences, Harrison aims to provoke deep introspection and contemplation of our relationship with the ever-changing world. Each painting resonates with echoes of its surroundings, capturing the intangible essence of a place beyond its physicality. Harrison invites us to embrace the present moment and the ephemeral nature of our environment. His artwork captures fleeting emotions, providing a sanctuary—a tangible reminder of the places that mold us and the interconnectedness of our shared human existence.
Megan Harrison
In response to my experience of the past two years, this body of work has become a personal reckoning of motherhood, loss and isolation. Delicately painted family portraits, small figurative sculptures, and fragmented landscapes are all dramatically enveloped by ink stained surfaces in the construction of a sublime universe - bewildering, beautiful and full of longing.
Transformed by the trauma of losing my son, born still in February 2020, and the profound sense of relief and joy with the healthy birth of a daughter two years later, my work creates space for love and sorrow, trauma and awe, to exist side by side. As my world contracted through grief and pandemic isolation, I created work for private contemplation, to be opened or held in quiet places. The making of these personal altar pieces and cherished objects can be interpreted as spiritual acts, expressions of healing and longing, and a practice of prayer to the most profound experiences of life.
Jessica Ramirez
As an artist with cultural heritage rooted in both Mexico and Argentina, I draw upon my background and experiences to explore themes of cultural identity. Through self-portraiture, I delve into my own cultural identity and establish a profound connection with the viewer. The tapestries I create are infused with imagery specific to my upbringing in Texas, incorporating symbols such as cactus and regional landscapes. Combining these symbols with sourced pre-Hispanic imagery, my aim is to express the profound influence of cultural heritage on my identity.
Being a sculptor, I am drawn to both three-dimensional work and graphic arts, and I sought to merge these interests in a series that combines sculptural depth and graphic aesthetics. Chromadepth techniques became a pivotal element in my artistic process, providing a unique intersection where I could effectively blend both dimensions. By incorporating chromadepth techniques into my tapestries, I create an intimate space between the artwork and the viewer, engaging them in a dynamic and immersive experience.
The illusion of three-dimensions is a defining feature of my work achieved through the use of chromadepth techniques. By employing stereoscopic techniques and materials, I transform flat two-dimensional surfaces into visually striking pieces that captivate the viewer's attention. When observed through chromadepth glasses, the tapestries transcend their original form, inviting the viewer into a vibrant world filled with vivid color and depth.
My artistic practice revolves around exploring cultural identity, utilizing self-portraiture, and incorporating pre-Hispanic imagery. Inspired by my heritage and experiences, my tapestries reflect the profound impact of my background. Integrating chromadepth techniques, I create visually stunning and immersive artworks that bridge the gap between two and three dimensions.