NIGHT MUSIC: Gillian Theobald
September 19 - October 10, 2020
︎ click here to
watch a video of the show
Culture wants art to be timely but Art wants to be timeless. Artists, caught in the middle, explore themes and ideas the way Walter Benjamin wandered back alleys, unsure of where they are going, if there's a even a way out, always hoping to find something along the way. Sometimes an artist's work speaks to the moment only after years of waiting for the dial to sync.
Such is the current survey of works by Gillian Theobald up at studio e this month. Drawing on a back catalogue of works from the last three decades, this exhibition explores the ways in which simple observation and seemingly uncomplicated approaches to subjects can over time build into a crescendo of significance. One of the benefits of such a rare look back in a milieu so focused on what's new is the ability to plumb connections across years and across seemingly disparate bodies of work. The work and her approach to it has remained remarkably steady, yet it is our world that has changed. Waterfalls – the rivers they are a part of, the wate that courses through them, the glaciers they spring from and all the interconnections – speak differently to us now. The soft haze in the air so prized by the Impressionists has a different resonance today than it did even a week ago.
If poetry is a concrete way of saying things without saying them, then art is a way of showing things hiding in plain sight. Night Music is a chance to hear time passing, and that's not something you come across every day.
-Christian French
Artist Statement

This show reviews several series of paintings created over three decades: Water, Half Full, Half Light, Night, Night and Day, and Elements.
All of these paintings have their start in abstract conjuring. The meditative feel of the pieces is an outgrowth of how they were developed from a painterly abstract expressionist start that allows them to define themselves as they distill toward an essential quiet. The images in all of my work come from a mental place, rather than one I see.
The Water diptych paintings are about different ways of processing emotions.
The Half Full series started from the impetus to see experience as half full, rather than half empty. This evolved into the Half Light paintings, also with a horizon halfway up bisecting the painting into two halves that communicate with each other.
The Night series started as a study of light in the dark, and then evolved into the Night and Day diptych series, which I see as about how night turns into day, bringing a changed perspective, after a decision to change one's mind.
The Elements diptych series commenced when I began doing Tai Chi, which is based in the Taoist ideas about five elements.
When younger, I found Mozart's music too 'pretty'. I now consider his operas the most superlative of them all. The title Night Music refers to his piece Eine Kleine Nachtmusik (A Little Night Music), and how to me, the mysteries of night are the opening for the revelation of day.
I'm grateful for the chance to see these painting together at studio e gallery. It has been informative for me, and has helped me reconnect with an abiding calmness in these frenzied times. I'm hoping other viewers can find some solace here as well.
-Gillian Theobald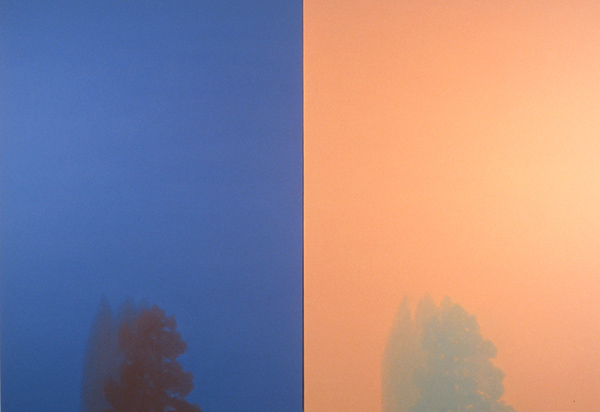 Ranging from 1994-1998 Alkyd oil on canvas, 12 x 12 in. $1,000