Emily Counts
Bio/CV
|
Website
|
#emilyraecounts

EXHIBITIONS
current
So Familiar:
Solo exhibition November 2023
past
Sea of Vapors:
June 1- Sept 1, 2023 at
MoM, Seattle
Seattle Art Fair:
2023
Gray Magic:
Dec 10 - Jan 7, 2023, studio e, Seattle WA
Seattle Art Fair:
July 2022
GHOST GARMENT GARDEN: Emily Counts Oct 30 - Dec 4, 2021
Emily Counts & Ko Kirk Yamahira:
July 17 — Aug 29, 2020
Emily Counts was born in Seattle, WA, where she currently lives and works. She received her BFA from the California College of the Arts and also studied at the Universität der Künste in Berlin. Her work has been exhibited in New York at The Museum of Arts and Design and Cooler Gallery, in California at Garboushian Gallery, Durden and Ray, and the Torrance Art Museum, in Oregon at Nationale and Disjecta Contemporary Art Center, and in Washington at studio e and the Bellevue Arts Museum. Counts was an artist in residence creating work for associated solo exhibitions at Raid Projects in Los Angeles and Plane Space in New York, and a 2020 resident at the Varda Artists Residency Program in Sausalito, CA. She has received grants from Artist Trust, the Oregon Arts Commission, the Regional Arts & Culture Council, and The Ford Family Foundation. She is represented in Washington by studio e, in Oregon by Nationale and is a member of SOIL in Seattle, a cooperative gallery established and operated by artists.
Press: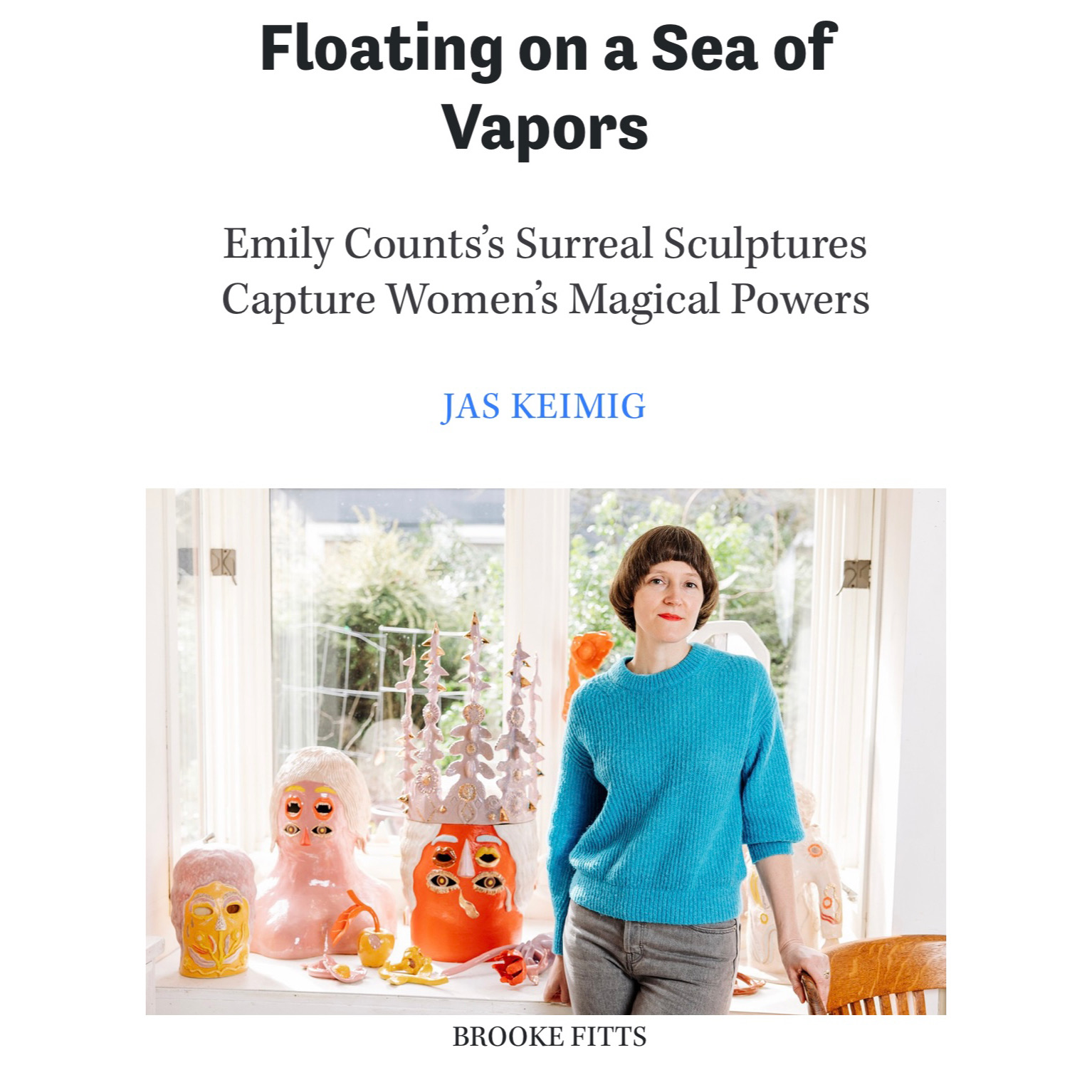 Seeing—and experiencing—Emily Counts' assemblages of three-dimensional art pieces is like visiting a joyous surrealist playground. One finds objects of daily use (cups, vases) that are playfully distorted and joined to others, unidentifiable shapes and designs, in relationship chains. Stuff of dreams here is manifested as absurd yet often lovely, hand-made objets trouvé, while body parts (hands and eyes, and the metonymic tears), crescent moons, and strangely deformed plant parts also harken to the surrealist language of the subconscious.
Yet, rather than aiming for the less savory profundities of the human psyche, Counts' pieces generate joy, their pastel colors evoking childhood memories of favorite toys, and the exciting, albeit incomprehensible world of human and object relationships that in childhood often happens wordlessly, via color and shape schemes. Counts' art radiates a similar kind of wonder over the beauty of the world, which encompasses all things, including those that only dreams and innocent visions can both produce and process. This artwork, then, most certainly comes out of the garden of pleasure, not pain.
However, while shapes and colors are simplified, the art pieces are by no means simple, as they contain significantly complex, multileveled relationships. The human body is present here, invisible in its entirety yet referred to metonymically (and surrealistically), the eye and hand prevailing as the crucial tools of an artist (Counts may be self-referencing here), while there are nature elements, such as the light and shade, crescent moon, spider webs and dream-world plants.
Stacked on top of each other, or loosely joined together by chains, these objects develop special connections, the organic blending with the nonorganic, natural elements and human body parts mingling with the unidentifiable pieces, creating novel formations, like tips of coral reefs, forging relationships based on proximity, belonging, shape and color. The viewer is presented with multiplicity of views and relations, with layered structures and viewpoints, and with multitudes of playful combinatory possibilities that communicate an invitation to joy that expands
beyond he galery walls: play, remember, and never cease to be amazed.
-Elena Deem
Available Work︎︎︎