Molly Magai
mollymagai.com
| #mollymagai |
cv
EXHIBITIONS
Land Use:
February 10 - March 4, 2023
artist talk with Steven LaRose, Saturday March 4th, at 3pm
In here: August -September 11, 2021

Periphery:
October – November 3, 2018
1 ROOM:
August 2018, A special exhibition at The Avalara Hawk Tower during the Seattle Art Fair.
Urban/Suburban Memories:
March 10 – April 15, 2017 Group show with Stephanie Buer, Jon B. Dove, Ann Duffy, and Karen Woods.
Port City:
June – July, 2015 Oil paintings by Molly Magai
Molly grew up steeped in the industrial landscape, in Cleveland, Ohio. She's a graduate of Bennington College and participated in SUNY's Studio Semester in New York. She has lived in Seattle, Washington, since 1992. Molly is a gallery artist at studio e gallery in Seattle, is part of the King County Art Collection, and has shown her work at many other venues in Seattle and throughout the United States, including in New York City, Vermont, Massachusetts, and Santa Fe, New Mexico.
Artist statement:
It's just landscape painting. Painting in oils – a 400-year-old method. The skills to render a seen object, or of managing light and perspective, haven't changed much. When I paint a tree, as an activity, it's not that different from John Constable painting a tree in 1820. But the awareness is different. For a 19th century painter, the tree was a gift from God, a home of birds, a source of shade, perhaps fruit, or future firewood. For me the tree is a survivor, and the birds ever fewer.

Fascinated by the beauty and strangeness of a degraded world, Molly Magai creates paintings that depict industrial areas, city streets, and freeways, and the plants that manage to live in them. Many of the paintings are from days when smoke from wildfires filled the air. She combines a genuine interest in industry and engineering – in how things work – with a deep dread of the continuing destruction of the natural world. Her work shows a deep, almost romantic affection for both the man-made and the natural environment.
Environmental degradation is all around us, but even so, it's our world, we live here, and we take pleasure in our days if we can.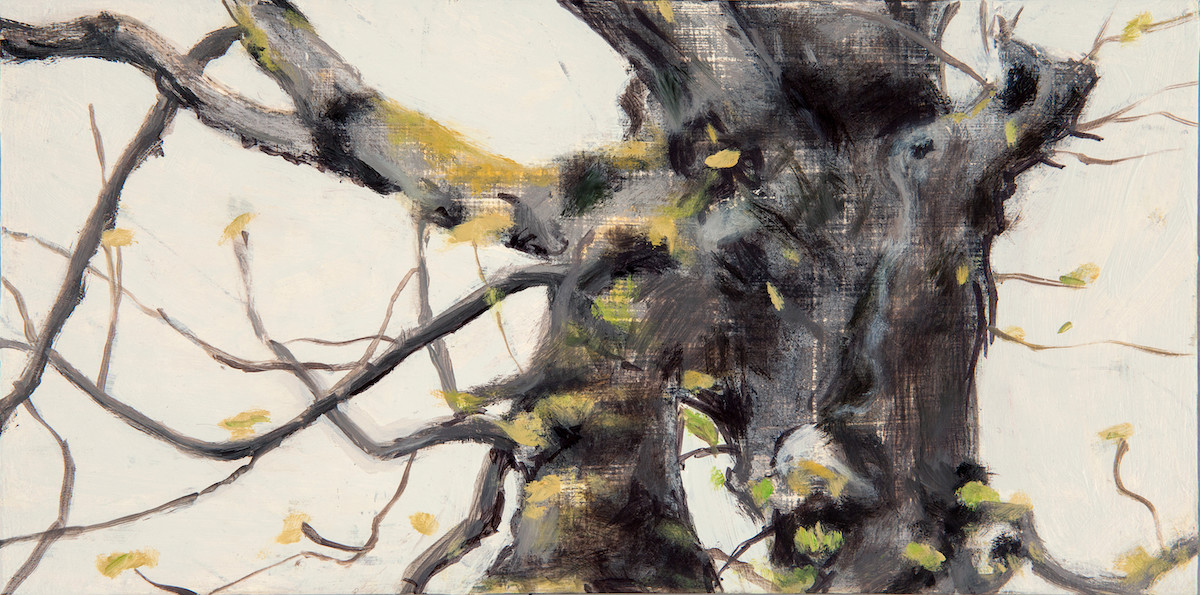 Available Work︎